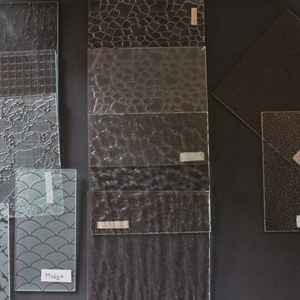 In the Jenei Gallery's activities the glass is present for almost every service, the processing of the glass. In our shop, glazing isn't just a classical service when we have to replace broken glass panels of doors and windows. Of course, we also do it, just like the glazing of furniture.
In our warehouse, we have a large inventory of 2-10 mm thickness flat glass, so we can meet the general needs fully. In our shop, it is available the glass for different purposes specially designed products, like etched, sandblasted, glued safety glasses, or parsol (coloured in material) and wiry (wire mesh) glasses, too.
We undertake the machining and decoration of flat glasses, the manufacture of various products from flat glass. In the case of individual orders, we prepare fire-retardant, fireproof and bulletproof glasses.
We implement unique ideas with a sandblasting technique (this makes the surface of the glass whole or partial matt). We manufacture unique insulated glass, which is made in a standard gas-filled design.