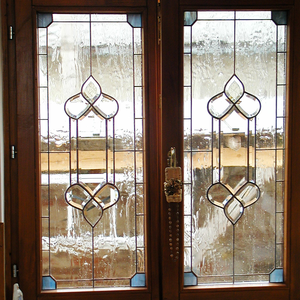 One of the most beautiful ways of glass processing is the production of the Tiffany glass. This special technique was developed by Louis Comfort Tiffany, American interior designer, who was interested in lead glazing, but he wanted to use it more widely. Whereas in the case of conventional lead glazing smaller surfaces couldn't be created, with the new copper foil technique, the decorated glass processing was widely spread.
The Tiffany glass feature is that the colouring of the glass isn't after the solidification of the glass pane, but they blend colouring oxides to the glass during production, they create patterns with this technique.
In our workshop we prepare with Tiffany technique window inserts, furniture glasses and gifts. Based on custom designs and samples drawing, we use Spectrum glasses and faceted glasses.